I got my birthday cookbook yesterday! I'm so happy. I've already loaded my August menu with a ton of recipes from the book.
I guess I should fill you in on the title shouldn't I?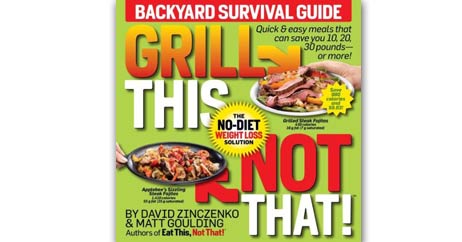 Source
I adore this series of cookbooks. The other 2 books that David Zinczenko and Matt Goulding wrote, Cook This, Not That and Cook This, Not That Easy & Awesome 350 Calorie Meals, are so worn out from use and they contain cryptic notes about whether or not the girls liked it.
Grill This, Not That has a ton of recipes. They have a nice, big seafood and vegetable section.
Dinner tonite was fat-free mac and cheese. I adapted the recipe from here:
Bobby Deen's Mac and Cheese
Baked Mac and Cheese
Keywords:
bake entree Mushrooms pasta cheese
---
---
A fat free, lightened up macaroni and cheese recipe. The girls loved it.
4 cups cooked pasta, drained (I used vegetable spirals)
2 cups fat-free shredded Cheddar cheese
1/2 cup skim milk
Egg substitute equal to 2 eggs
1/4 cup fat-free sour cream
1 tablespoon Dijon mustard
1/2 teaspoon salt
3 portobello mushroom caps, cut into medium chunks
1 medium onion, diced
Instructions
Preheat oven to 350°F.
Spray a casserole dish with pan spray.
Put chopped onions and mushrooms in large bowl.
Cook the pasta, mix in with the onions and mushrooms and add the cheese to the pasta vegetable mixture
In a separate bowl mix together the milk, egg substitute, mustard, salt, and sour cream
Add the milk mixture to the pasta mixture.
Place it all into your greased casserole dish
Bake for approximately 35-40 minutes until bubbly and hot
For more great recipes visit
It was delicious and the girls really liked it. I liked the fact that it wasn't incredibly pasta heavy like a normal mac and cheese is. I just wish that I had remember to get a picture of it (even though it wasn't pretty at all)
What's your favorite cookbook?